How can our homes be built to meet future care needs? How do we train nurses for future care? How do we best use the technology in healthcare and in sport? At Health Lab, students, researchers and university collaborators can design, test and simulate working methods – in environments that make it feel real.
Health innovation and new ways of working
New knowledge of people, technology and society makes it possible to create innovative working methods for communication, counselling, examination, treatment and training and more.
The Health Lab offers space, concepts and technology where future working methods are designed and tested. All with the help of experience from those who will use it in practice.
The Health Lab includes:
Unique authentic environments and equipment for scientifically based simulation, exercise and skills training.
Activities for innovation work through applied research, community research and health research, where new ideas meet the skills and experience for transferring research results into new methods and approaches.
New social environments for development and meetings.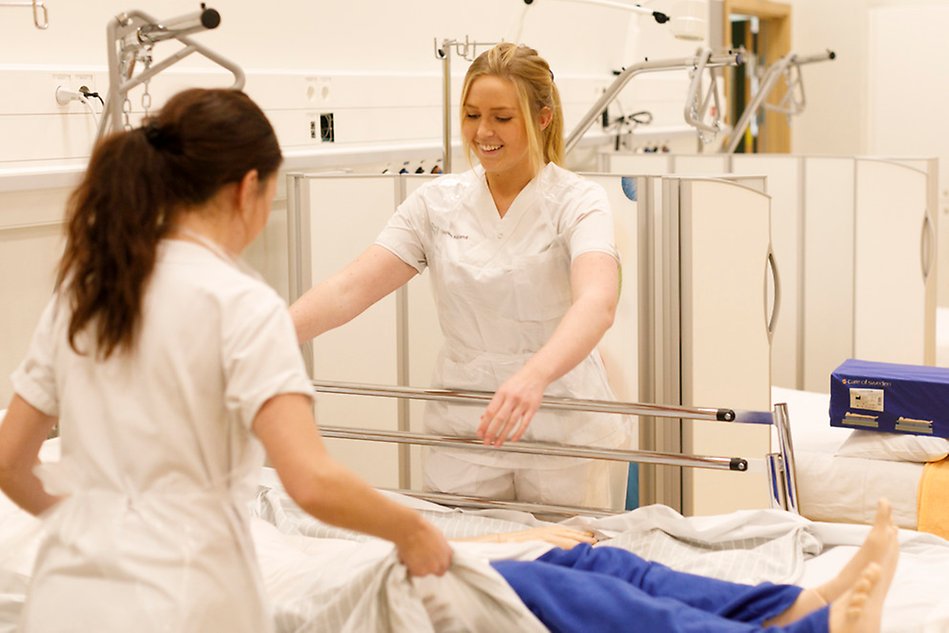 The Home of Health (Hälsans hem)
The Home of Health is a complete two bedroom apartment for simulation and practice of professional skills and interaction in the healthcare sector. This environment has a particular focus on the fact that an increasing proportion of care is carried out at home. The apartment has been developed in cooperation with the Halmstad Intelligent Home and Clinical Training Center, two colleges at the university that work together to develop, simulate and test the use of health innovations.
Clinical Training Center (Kliniskt träningscenter, KTC)
In the Health Lab, Clinical Training Center (Kliniskt träningscenter, KTC), is a place for skills training and simulation in the healthcare environment. The KTC is linked to nursing education, but can also be used by students in other areas, as well as by other stakeholders, such as healthcare practitioners.
Application environment for sports and exercise
Here research and education develops that apply and evaluate innovative solutions for eg elite riders, athletes and patients. It could be about:
digital support structures, such as career planning and rehabilitation
decision support and learning, such as eye tracking
self-monitoring, such as activity measurement.
The activities are followed up in the form of coaching and motivational conversations that researchers and clients develop together. In the projects, researchers from different areas collaborate with students, external partners and potential recipients and participants from relevant audiences / clients.
Film what is happening
As part of the learning as well as visualization and distribution of results in education and research, you can film staged activities in research and education through collaboration with Application Environment Media (Tillämpningsmiljö Media, TMM). TMM is administered by a media developer and staffed by students in media and communication related education.