Center for Applied Intelligent Systems Research (CAISR)
The Center for Applied Intelligent Systems Research (CAISR), is a long-term research program on intelligent systems established by Halmstad University. The program is funded by the University and the Knowledge Foundation with support from Swedish Industry.
The scientific focus for the Center for Applied Intelligent System Research (CAISR) is "aware" intelligent systems – human aware, situation aware, and self-aware. These systems can communicate with people, assess people's intentions and combine different sources of information to get an overall picture and monitor themselves. The subject expertise in the center is in signal analysis, machine learning and mechatronics. CAISR also has an emphasis on cooperating systems, in line with the research focus for the research environment Embedded and Intelligent Systems (EIS).
Several industrial partners are collaborating with researchers from the University in joint projects, and also take an active part in the development of CAISR. The industrial partners include multinational companies as well as research-based growing companies. The key application areas for CAISR's research are health care technology and intelligent vehicles.
Application Areas at CAISR: health care technology and intelligent vehicles
News article 191025:
Successful research venture within AI
Today, artificial intelligence (AI) is becoming central in technical research and development. But eight years ago, when Halmstad University started Center for Applied and Intelligent Systems Research (CAISR), AI was not such a hot topic in Sweden. A recent external evaluation shows that the CAISR initiative has been very successful – the researchers at CAISR have established strong links with the industry and joint research projects have resulted in concrete solutions and patents for challenges in both the automotive industry and within healthcare. A continuation is planned for CAISR with a focus on predictive maintenance of both humans and machines.
CAISR is a multidisciplinary research center with researchers from different areas. Our research directions are governed by the needs of society and are done in collaboration with our industrial partners.
Collaboration and organisaton
CAISR is closely linked to Centre for Health Technology Halland, the lab Halmstad Intelligent Home and Technology Area Aware Intelligent Systems:
Industrial Partners
With support from the Knowledge Foundation

CAISR Management
CAISR Industrial Advisory Board
The CAISR partners have decided to create an Industrial advisory board (IAB), consisting of representatives from each industrial partner. This group will follow the project development with respect to the co-production and co-operation between the Parties. The Industrial Advisory Group will meet twice a year. The Industrial Advisory Group will express themselves on issues of potential new partners in the project, changes in financing and project development from business perspective.
CAISR Reference Group
The reference group consists mainly of representatives from national and international research institutions. The reference group gives advice and comment on the project development from the academic perspective, not least by the University's perspective. They will also give their view on research, innovation and education perspectives. The reference group can also provide suggestions for concrete actions to improve the project.
Research projects and application areas
The mission of CAISR is to serve and promote the development of industry and society. It is a center for industrially motivated research on the future technologies for and application opportunities with aware intelligent systems. CAISR will serve as a partner for industry's own research and development, as a recruitment base for those who seek staff with state-of-the-art knowledge in intelligent systems technologies, and as a competence resource for industry and society. Read more about the research focus and application areas of CAISR:
Application Areas at CAISR: health care technology and intelligent vehicles
Two research projects are described in the videos below. Read more about other research projects on CAISR's wiki pages. The project Remind, which deals with technology development for people with dementia, and the AIR project, which is about human interaction with autonomous systems, have their own web pages.
Research projects at CAISR, wikipage

Projekt: Remind

Projekt: AIR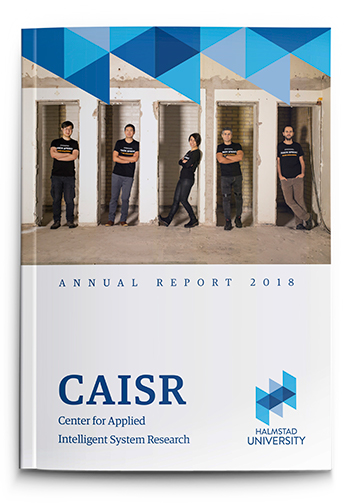 The video shows Baxter, a social robot who is trained by the researchers to perceive and interpret people's feelings and needs. For example, the robot can help people who fall and make sure that the cooked food is healthy.
The video explains the research project AIMS (Automatic Inventory and Mapping of Stock) which started in 2015 and deals with intelligent warehouse trucks. The research has been done in collaboration between the CAISR at Halmstad University, Toyota Material Handling, Kollmorgen and Optronic. The project has led to continued cooperation in the coming years between the parties involved in order to further develop and improve the automatic storage trucks.