Education in AI for professionals
Artificial intelligence challenges and develops Swedish industry and public sector. Companies and organisations need to increase their competence within the field to maintain their competitiveness. The School of Information Technology at Halmstad University provides professional education within artificial intelligence and service design.
Flexible education within AI and service design
The MAISTR programme
The programme "Data Analytics and Service Innovation based on Artificial Intelligence" (MAISTR) is directed towards professionals who want to get continued education in Artificial Intelligence (AI) technologies, specifically Machine Learning (ML), and business and service development techniques with AI/ML. The programme is on the advanced level and will (after step 2) comprise courses corresponding to a total of 120 credits (hp). The program has unique aspects by combining courses on both AI technology and courses on service design with AI. It's not enough to understand the technology alone – AI needs to be linked to people-centred service design in order to create value and benefit. This means that not only technology companies, but also design agencies and the public sector are affected by this area.
The programme is flexible and can be carried out at the same time as an ongoing professional career. The education builds on previous experiences with developing a web-based Data Mining course for industry professionals. Two courses are suggested for the first year:
Each course will run over a full semester at a pace of 25% (200 hours), and follow a distance-based format with visits from and to the participating companies during the teaching periods. The detailed contents for these courses will be developed in cooperation with the participating organisations and company representatives through several co-production workshops.
MAISTR course: Deep learning with applications
About the course
The aim of this course if to introduce students to the fundamentals of deep learning and develop practical skills to implement various deep neural network based solutions for typical problems in machine learning and data mining. The course covers both theoretical and practical aspects of working with deep learning models.
Knowledge and understanding
The course will provide a basic understanding of machine learning and neural networks with a focus on deep architectures, how apply them for different machine learning problems and how to evaluate their pros & cons under various conditions.

Skills and abilities
Show how to use a convolutional neural network to classify images, including suitable choices of layers and kernel sizes.

Use a recurrent network, both deep and shallow, for problems with sequence data.

Judgement and approach
Develop an advanced deep learning project in a small work group.

Identify difficulties and requirements, and then search for alternative solutions to overcome problems by referring to the theoretical and technical aspects.

Analyse a typical problem within the subject area and deduce which method or methods that are most suitable to solve it.
Primary contents
The main content of the course concerns techniques for analysis, design and programming of deep learning algorithms. The content will cover basic principles of machine learning, multi-layer perceptrons (MLPs), spatio-temporal feature extraction with convolutional neural networks (CNNs) and recurrent neural networks (RNNs). The theoretical part of the course will introduce the principles and applications of deep learning. Each theoretical subject will be introduced together with various examples from real world applications. In addition, to increase the students' interests, not only the motivation of each approach will be emphasized but the combination of various suitable approaches will also be formulated to solve real world problems. Laboratory exercises will be performed on world-wide known publicly available datasets to help the students face real world challenges in deep learning.
Key topics:
Machine learning

Deep learning

Supervised learning

Neural networks

Sub-topics:
Multi-layer perceprons

Convolutional neural networks

Recurrent neural networks

Autoencoder

Generative adversarial networks

Model selection
Learning outcome
Have a general understanding of machine learning.

Learn the basic theoretical concepts related to deep neural networks.

Identify the basic characteristics of deep networks and their real-world applications

Apply theoretical knowledge to implement various deep architectures while collaborating with peers in a small group.

Implement algorithms for segmentation, classification and regression using datasets from several domains, including autonomous vehicle and health-care domains.

Analyze the main problems in deep learning.

After finishing this course you will be able to:

Discuss the theoretical and practical aspects of deep neural networks.

Describe and understand the construction of different types of deep neural networks.

Implement a deep learning model to solve a typical classification or regression problem, including systematic choice of suitable model parameters to optimize the generalization performance.
Language and credits
English, 7.5 ECTS
Prerequisites

Engineering Mathematics 7.5 credits, familiar with computer programming.
Examination

Fail or Pass will be awarded for the course. The course is graded based on results of project work and quality of students' presentations during the seminars.
Project

The course will contain a project where the student will develop a deep neural network for a real world application.
Course director

MAISTR course: Service Design Based on Data Analytics – Perspectives and Possibilities
About the course
The aim of the course is to understand how both technical and user experience aspects affect the design of services, and to gain an understanding of both possibilities and limitations with data-driven service platforms.
Knowledge and understanding
Describe the features of digital technology and the underlying logic of data-driven services.

Identify problem areas that can be addressed with data-oriented methods, such as data mining.

Describe risks related to digital technology and society's digitalization.

Skills and abilities
Formulate requirements for data-driven services

Select and use appropriate methods and tools for solving specific design-oriented problems for designing data-driven services

Select and use appropriate methods and tools for evaluating the effects of data-driven services on individuals, organizations, and society
Judgement and approach
Critically analyze and evaluate the structure and effects of data-driven services from a security, ethical, and integrity perspective
Primary contents
The course focuses on the fundamentals of Service Design and innovation from a data analytics perspective. The course is divided into two main parts. The first part focuses on theory and practice in digital service innovation and Service Design, and covers tools and methods for visualizing end-user service experiences, such as Customer Journey Maps, Service Blueprints, etc.
In the second part, data-driven approaches and digital platforms are examined from a service innovation perspective. This part looks at how the underlying digital technologies shape the service experience, and what possibilities and limitations can occur in a data-driven design environment. The toolbox from part one will be extended with new tools and methods, and by modifying existing tools, to cater for data-driven approaches and the effects AI techniques have on the resulting end-user experience on the one hand, and the design situation for the practitioner on the other.
Throughout the course, the perspectives of ethics, security, and integrity will be part of the on-going discussions.
Key topics:
Digital Service Innovation

Service Design

User-Centered Design Approaches

Data Analytics
Sub-topics:
Visualization

User research and design methods

Ethics

Security

Integrity
After finishing this course you will be able to:
create new service design projects based on data analytics.

use service innovation methods and visualization tools to describe and communicate the design of data-oriented service platforms.

reason about the ethical, security, and integrity effects of service design.
Language and credits

English, 7.5 ECTS
Prerequisites

Primer courses or equivalent.

Examination

Fail or Pass will be awarded for the course. The course is graded based on written take-home assignment.
Course director

Podcast-based course
DAP (Digital design and Artificial Intelligence Podcast) is a project financed by Vinnova for flexible possibilities for professional development.
Digital design and Artificial Intelligence Podcast

In october 2019, the podcast Human-Centered Machine Learning was launched within the DAP project. The podcast consists of 12 episodes of varying length, most of them around 40 minutes. The first episodes elaborate on the basic concepts of AI, followed by episodes describing how AI can be used when designing services. Examples are given of how AI as a design method can be applied in the areas of health innovation as well as smart cities and communities. The podcast ends with an ethical and social reflection on AI. The podcast is in English and each episode is based on a dialogue between two or three experts.
Podcast: Human-Centered Machine Learning (DAP website)

News article: Halmstad University releases podcast course about AI
Commissioned education
Another possibility for a flexible education within service design and AI is through a commissioned education, tailored for your organisation. Contact Stefan Byttner or Pontus Wärnestål for more information.
"AI is a transforming technology, and industries in many sectors need to step up their competence in this area to maintain competitiveness. This does not mean just the technology side of AI, which traditionally has been the focus of education in Sweden, but also for how services are built on AI."
Stefan Byttner
Developed in collaboration
All programmes and courses within service design and AI for professional are developed in collaboration with companies and the public sector. MAISTR is a so called "Expert competence programme" financed by the KK foundation.
The programmes and courses are led by Halmstad University in collaboration with University of Skövde and RISE SICS. They are supported by Volvo Cars, AB Volvo, Autoliv, Zenuity, Stena Line, Easyserv, Fysiotest, Hotswap, Jayway, Digital Reliance, InUse, RISE Viktoria and Nibe.
Please contact Stefan Byttner, Senior Lecturer at the School of Information Technology at Halmstad University, if your company or organisation is interested in participating in the programme. The project management group at Halmstad University consists of Stefan Byttner, Sepideh Pashami, Rafik Bouguelia and Pontus Wärnestål.
What does a participant say?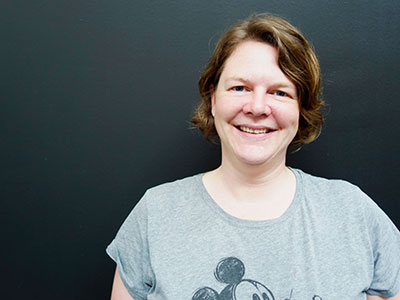 Britta Duve Hansen is a mathematician and works as a solutions architect at the municipality of Lund. She attended the MAISTR programme at Halmstad University during the spring of 2019:
"I use the concepts that we talk about during the programme in my daily work, but I have no education in the subject. Therefore, I wanted to get the academy's and research's view on how to design for AI and machine learning. At Lund municipality we have a team with UX and service designers. It is important that we, who work with IT architecture, also have knowledge in the area so that we can use the same vocabulary. During the MAISTR programme, we meet one day a month in Halmstad, which is a good arrangement that can easily be integrated with working life."