Graduation week filled with joy and drive

Last week was Halmstad University's graduation week with the graduation fair Utexpo and the big graduation ceremony at Halmstad Arena.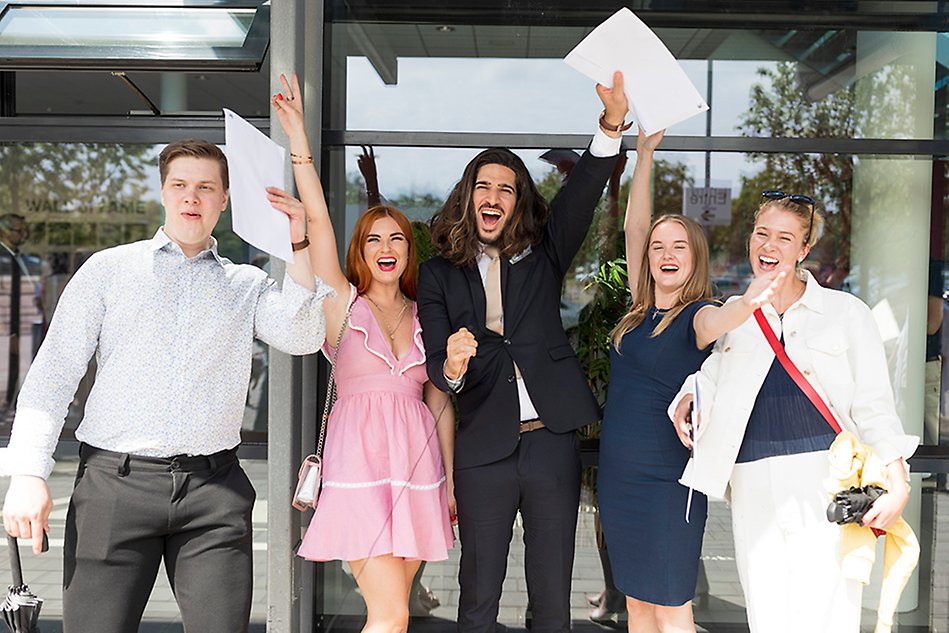 Halmstad University's big graduation week opened on Wednesday, June 5, with the graduation fair Utexpo, where students showed off their graduation projects. The University Hall was quickly filled with curious visitors who wanted to take part of the innovation, drive and many laughs offered by this year's graduating students.
The fair was opened with a speech from Halmstad University's Vice-Chancellor Stephen Hwang, followed by the awarding of scholarships.
­"This is one of those times when it is especially thrilling to be the Vice-Chancellor of a university, when we have the opportunity to celebrate our amazing students", said Stephen Hwang.
­Mannequins for the modern human

This year, visitors could take part of many exciting and innovative projects. Mechanical Engineers Hannah Carlbom and Emma Reinholdsson were awarded several different scholarships for their project "Mannequins the modern human way". Filip Göransson, who studied the programme Master of Science in Computer Science, and Johannes Hellgren, Mechatronical Engineering, received a newly established scholarship which is part of a collaboration deal signed by Halmstad University and Stena Recycling earlier in the day.
Apart from the scholarships awarded at Utexpo, more scholarships were also awarded from several other organisations and foundations.
"Every single one of you sitting here today is a winner. You have achieved a goal which seemed very distant a few years ago."
Vice-Chancellor Stephen Hwang
Joyful graduation ceremony
On Friday, June 7, the Halmstad University graduation ceremony took place at Halmstad Arena for the second time. The ceremony was arranged for the first time in June last year and it was finally time to repeat the success. The graduation ceremony is a chance for the University to show the students appreciation and for the students to feel proud of their achievements and their commitment during their education.
Around 3,000 students together with their friends and family gathered at the arena to celebrate. After some mingling in the sunshine, the students entered the arena to the sound of Linnea Henriksson's song "Halmstad".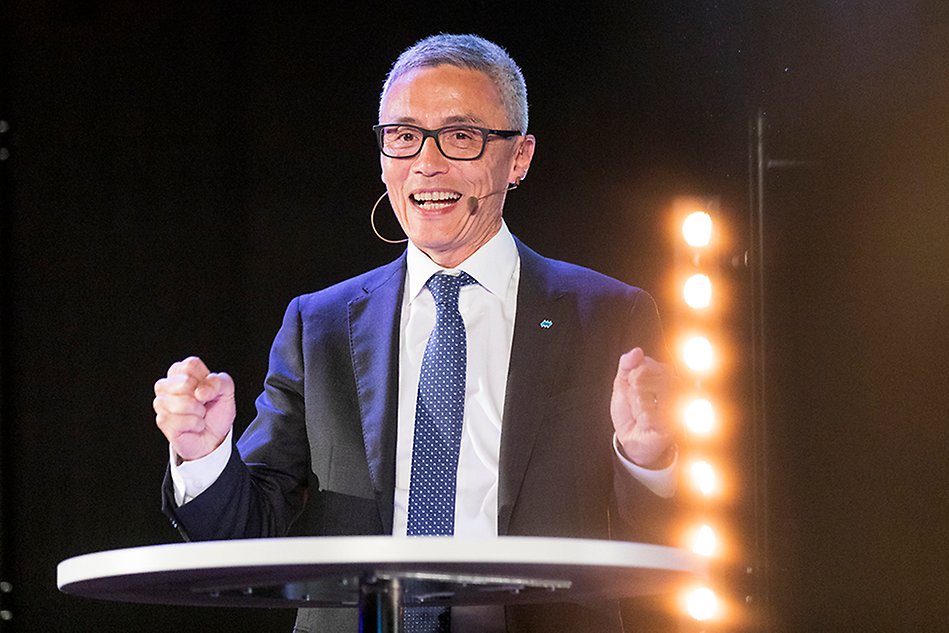 Vice-Chancellor Stephen Hwang celebrated the graduates in his speech:
"Every single one of you sitting here today is a winner. You have achieved a goal which seemed very distant a few years ago."
The Vice-Chancellor also praised the courage of the international students.
"You have had the courage to travel to Sweden and Halmstad in the pursuit of your dream – to get an education and degree that will enable you to have the career that you want. You have succeeded in your studies and have overcome the cultural difficulties and challenges that come with living in a new country."
International experiences

Students Zanele Lurafu and Ellen Karlsson held a joint speech, both of them having experiences from a life in another country. Zanele Lurafu is originally from South Africa and came to Sweden and Halmstad to study the Master's programme in Strategic Entrepreneurship for International Growth. Ellen Karlsson has studied Health Education and studied in Kansas, USA, during an exchange semester.
"I had mixed emotions; excitement and also being a bit nervous of moving to a new country. What I didn't know was, at that moment my life was about to change forever", said Zanele Lurafu.
"The journey I have made has given me tools that will allow me to continue to take on challenges and to create the career and future to which I aspire", Ellen Karlsson explained.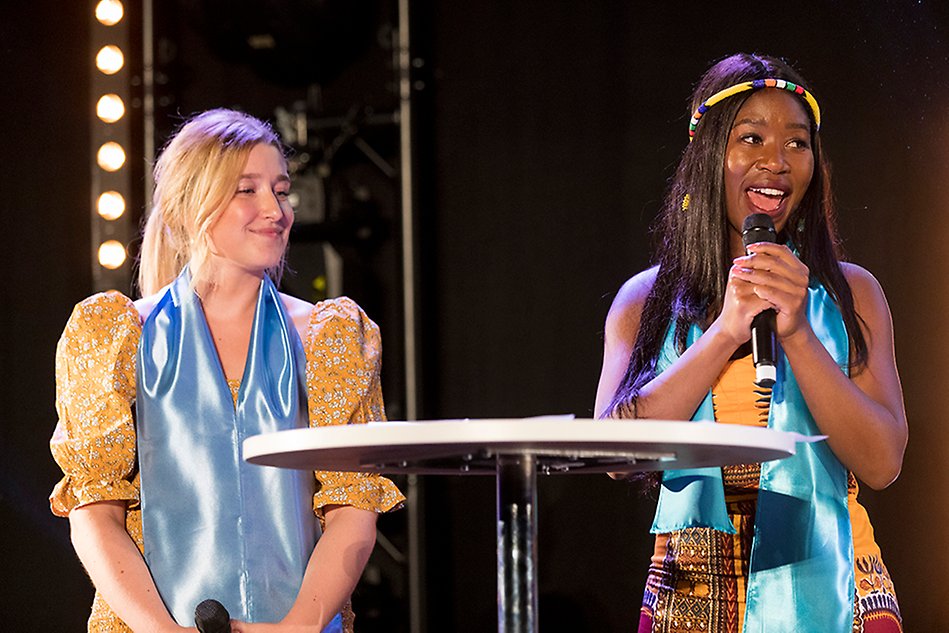 Dedicated students recognised
Apart from all the speakers, there was also musical entertainment in the form of the acapella group Voizone, and Old Timers.
Some students were recognised a bit extra for their dedication during their studies. Pro Vice-Chancellor Pernilla Nilsson handed out the award Student of the Year, one from each School. The students who received the award were Emma Flodin from the Social Change and Social Sustainability programme, Lucas Ebers from the Electrical Engineering programme, Jennie Vestberg from the International Marketing programme, and Maja Waldau from the Social Analysis and Communication programme.
Alumni award honoured previous student

Alumna of the Year was Åsa Ekman, previously a student of the programme Sociology and Community Development and Social Action, who today works as a children's rights consultant in her own company. This was the second time that Alumnus/Alumna of the Year was awarded. The award is an expression of Halmstad University's ambitions when it comes to collaborating with previous students for mutual development.
The municipality of Halmstad was also represented during the graduation ceremony in the shape of Lord Mayor Andreas Bergman.
"All students' importance for Halmstad as a city must also be highlighted. The city becomes lively and full of movement when new students arrive. This creates collaborations with innovations in different areas, companies are formed and people from different countries meet."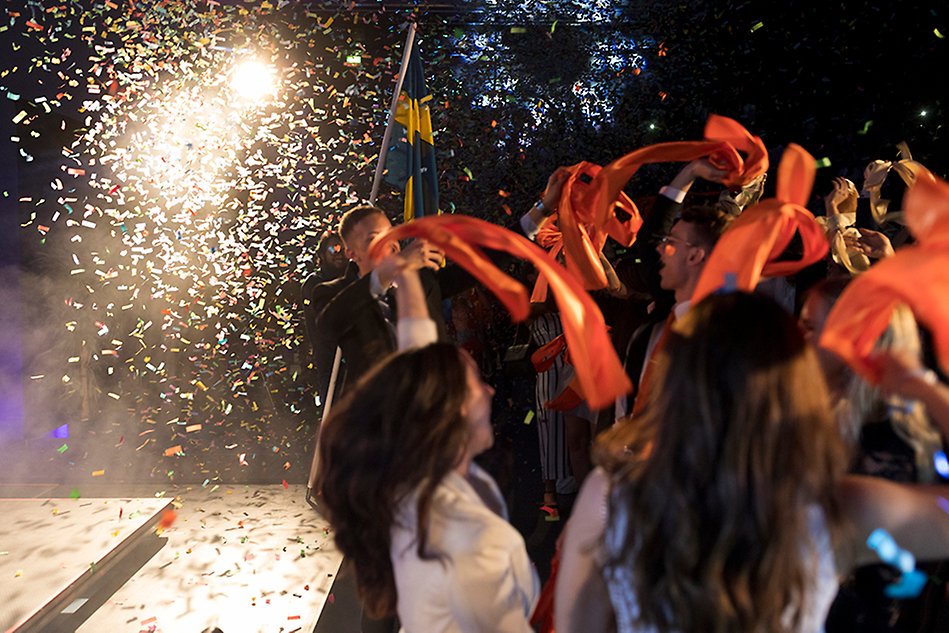 Closing from the Student Union president
Before the students danced out of the arena to continue the celebration, Student Union president Marielle Bock closed the ceremony with her speech:
"Now you have studied here for a few years, sat for exams and re-exams and, finally, completed a thesis project. I imagine that it's been tough. But student life is so much more than that – it's evening study sessions and group work, exams and essays, but it's also gasque parties, coffee breaks, laughter, crying, and everything in between. It's a time for development, both in your chosen future profession and as an individual. It's thanks to you that student life at Halmstad University is what it is."
Congratulations and good luck, all students who have now graduated from Halmstad University!
Text: Rebecca Staver
Photos: Anders Andersson