Who is the Student of the Year and the Alumnus/Alumna of the Year?
In connection with the graduation ceremony in June, we will present the recipients of our prestigious awards Student of the Year and Alumnus/Alumna of the Year. You can influence the decision by nominating someone who you think deserves extra recognition.
The Student of the Year award is given to final year students (one at each school) and the winners are selected based on the nominations submitted by students, teachers, staff members and collaboration partners.
The Alumnus/Alumna of the Year award is given to a former student who has excelled after graduation and who is a positive role model. Everyone who has studied at Halmstad University and made a valuable contribution after their studies can be nominated.
"It is an honour to have been nominated"
If you know a final-year student or alumni who has excelled and deserves extra recognition, we advice you to take the opportunity to nominate him or her to this years' awards.
"It is an honor just to be nominated, but it is fun to receive the award as a confirmation that hard work pays off", Anna Fransson said when she received the award last year.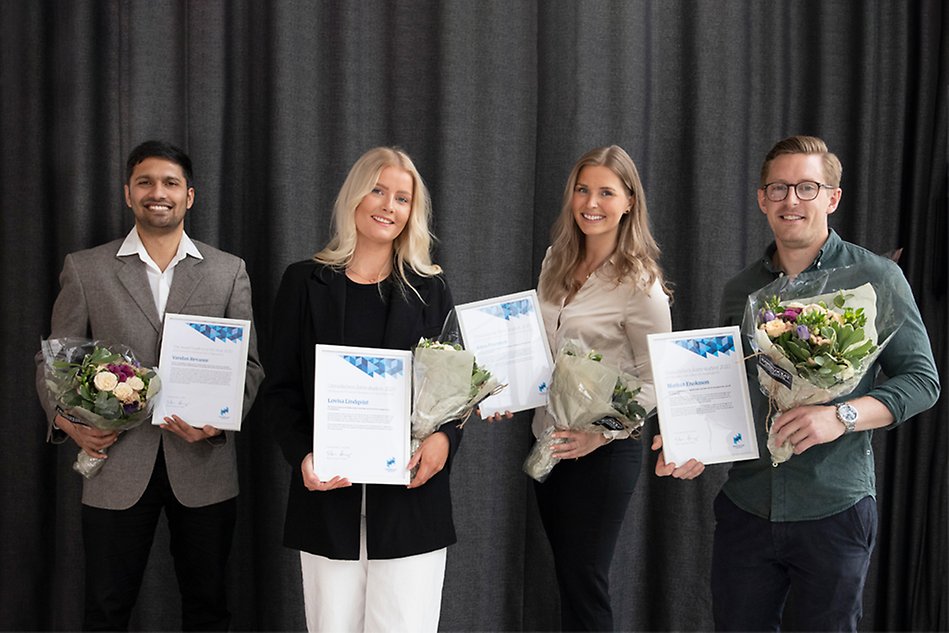 Submit your nomination by April 15
April 15 is the last day to submit your nomination. Do you want to make someone happy and celebrated during the graduation ceremony? Don't hesitate, submit your nomination today!
Nominate someone for Student of the Year
Previous recipients of the Student of the Year award
2020
Vandan Revanur (Master's Programme in Embedded and Intelligent Systems)
Lovisa Lindqvist (Political Science – Social Analysis and Communication)
Anna Fransson (Programme in Innovation Engineering)
Markus Enoksson (Psychology – Sport and Exercise)

2019
Emma Flodin (Social Change and Social Sustainability programme)
Lucas Ebers (Electrical Engineering programme)
Jennie Vestberg (International Marketing programme)
Maja Waldau (Social Analysis and Communication programme)
2018
Johan Elwing Malmfelt (Biomechanical Engineering and Mechanical Engineering Programme)
Amanda Stenholm (Psychology – Sport and Exercise Programme)
Kajsa Carlsson (Subject Teacher Education Programme)
Anna Lidén (Enterprise Systems Programme)
Previous recipients of the Alumnus/Alumna of the Year award