OSMaaS – Designing Open and Self Organising Mechanisms for Sustainable Mobility as a Service
Mobility as a Service (MaaS) is a way to enable individuals a choice of transportation method – for example a bike, car or bus – depending on their needs. It is a shift from personally owned modes of transportation towards mobility provided as a service. OSMaaS is a so called Synergy project within the Halmstad University Knowledge and Competence Center. The project is intradisciplinary and aims to develop MaaS platforms by using service design methods. Subprojects are within Business Model Innovation, Design Ethnography and Technical Design. 
Background and research question
Mobility as a Service (MaaS) is the value adding integration of different forms of transport services into a single mobility service that is available on-demand. To meet customer needs, MaaS offers various types and combinations of transport options, such as public transport, car, taxi or bicycle rental, leasing or a combination of these. For the user, MaaS provides added value by giving the customer access to the full range of services through a single consistent interface and payment channel instead of using multiple tickets. MaaS makes available easy to use solutions for meeting individuals' mobility needs by reducing the complexity that arises when individual trips are combined into larger and more complex transport flows.
Single and multi-modality service platforms
MaaS exists today largely on conceptual level with some examples of companies offering MaaS solutions. Existing MaaS are one of two kinds: single modality or multi-modality service platforms. The single modality platform connects a service provider to a customer, what is known as a two-sided market. The taxi service provider Uber is the most well-known single modality platform. Uber's impact results from its open design: any service-provider can connect to the platform, define the level of service they are offering, and directly interact with customers. Therefore, the service easily scales within its single modality.
The multi-modality platform involves more modalities and service providers who form an ecosystem with complementing services that can meet a greater variety of customer needs for point-to-point mobility in a flexible and usable way. The multi-modality platform is a multi-sided market that handle a higher degree of complexity. Still, the existing platforms of this type do not scale easily. The reason is their closed design: the platform requires all service providers to build solid alliances with the platform owner and the other service providers, which is both costly and uncertain. Existing multi-modality platforms include smaller groups of service providers and the modalities they cover (for example a bus operator, taxi company, car-pool and bicycle rental). Each installation covers a limited area, typically a city or a region. There are several pilots and case studies of such platforms, for example TransitApp, Mobility 2.0 and UbiGo. These platforms largely adhere to the original definition of MaaS, emanating from a desire to increase public transport in cities.
OSMaaS main research question
This raises the initial question of how to design a MaaS that both has the ability to scale and can generate ecosystems with multiple service providers that support multimodal mobility. Current MaaS development goes towards increasing use of complementary services on the demand side to solve transport needs. To provide customers with full range of mobility – multimodal solutions – companies are increasingly dependent on integration of other service providers to complement them where they have no or limited capacity. MaaS platforms are likely to become the dominant platform for integrating mobile services, but extant research has little to offer on how to design service platforms for multi-stakeholder and multimodal MaaS ecosystems that can identify the variety and development of user mobility needs, easily integrate new service providers and thus scale. To become sustainable, MaaS platforms must be designed to self-organize the integration of providers of services for multimodal mobility. We thus define MaaS sustainability as the ability to continuous and efficient integration of value adding services to customers, and pose the following core synergy question:
How can a MaaS service platform be designed to enhance continuous integration of mobility services for multimodal mobility of people and their goods in a sustainable way?
Contrubution to industrial partners
The project contributes with solutions for a specific challenge facing the collaborating business partners: how transport companies aiming for breakthrough service innovation capability can leverage the company's strategic position on the market by using a MaaS platform to enhance continuous integration of value adding mobility services.
Subprojects within OSMaaS
Contribution of the different subprojects towards answering the core research question of the Synergy project OSMaaS:
The project will use a Service Design approach as the scientific base for the synergy. The Service Design project is thus the synergy part of the project that owns the core question. Service Design fits very well to enable continuous integration of mobility services over time, since it deals with how services are delivered over multiple channels and business models. The synergy integrates results from three sub-projects. Together they provide sufficient and necessary results to answer the core question and to integrate research results in the design of the MaaS platform where they are tested and verified.
Business Model Innovation deals with the companies' transformation from product to a product-service oriented business in the context of data driven mobility solutions, and contributes with methods for developing business models and governance frameworks for open innovation in MaaS ecosystems. The sub-project is motivated by the need to understand how value is created and captured with digital mobility platforms.
Design Ethnography will empirically investigate user experiences and expectations of future mobility solutions. We know relatively little about users' (people and their goods) actual mobility practices, their expectations of how mobility services can support them in their everyday life and what influences decisions about transport modalities. The project is motivated by the need for in-depth design-ethnographic research about requirements for demand-side modeling.
Technical Design will develop the platform's logic and the necessary optimizations, including search algorithms for complex combinations of the different travel modalities and discovery and management of users' preferences. Given the access to user mobility patterns via the product design, the project will provide tools to do meaningful analysis of user data based on the actual use of the platform. The sub-project is motivated by the need for reliable and optimized handling of data to achieve a positive user experience, both in terms of efficiency and relevance, and to provide input to the development of new services and businesses from big data, machine learning and AI technologies.
OsMaaS results
Reports and academic papers produced by the researchers:
Report 1, May 2020:
State-of-the-art of business models within the context of Mobility as a Service (MaaS)

Pdf, 7.8 MB, opens in new window.
Report 2, August 2021:
Designing Smart Mobility Systems: Mapping the future to Human-Centered Intelligent MaaS

Pdf, 2.5 MB.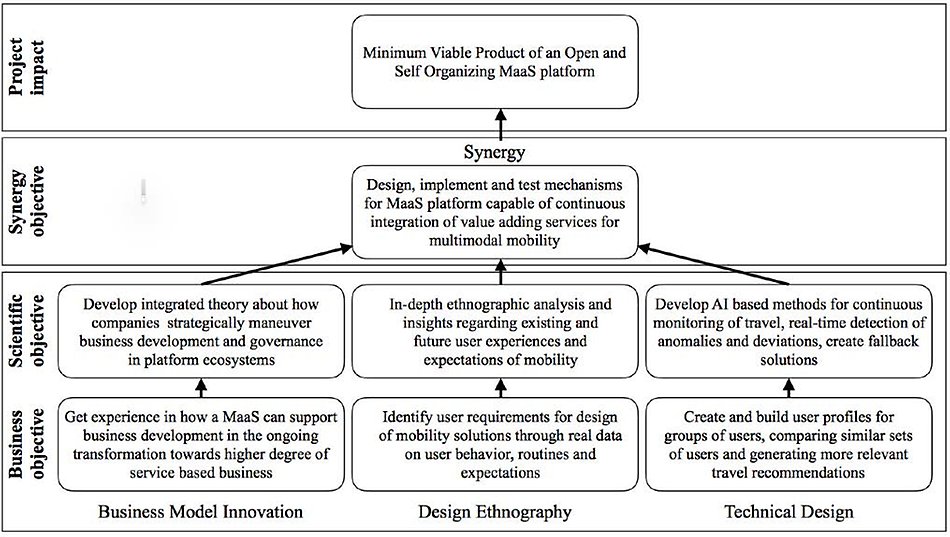 About the project

Project period:

February 1, 2020, to January 31, 2024
Financier:

The Swedish Knowledge Foundation
Involved partners:
Volvo Car Corporation
Polestar
WirelessCar
Jayway
Project team at Halmstad University:

OSMaaS is an intradisciplinary research project with project members from the research environment Embedded and Intelligent Systems Resaerch (EIS) at the School of Information Technology and the research environment Center for Innovation, Entrepreneurship and Learning Research (CIEL) at the School of Business, Science and Engineering. The Future Mobility Center at Halmstad University is also involved in the project.
Department: