Health Innovation Day: information driven care benefits the whole region
On Thursday, September 17, Halmstad University's annual innovation conference ­– Health Innovation Day 2020 – took place. The conference, which was arranged by the University's profile area Health Innovation, was live streamed and available for attendees both nationally and internationally. The speakers were all experts within the fields of health innovation and information driven care.
"We have to retrain and rethink and be open minded to new ideas on how to solve the issues and problems at hand."
Karin Moberg, COO, Hallandia V
"I am proud of all the collaboration in the region and I am convinced that we are on the right path in Halland", said Mikaela Waltersson, Chairperson, Regional Board Halland.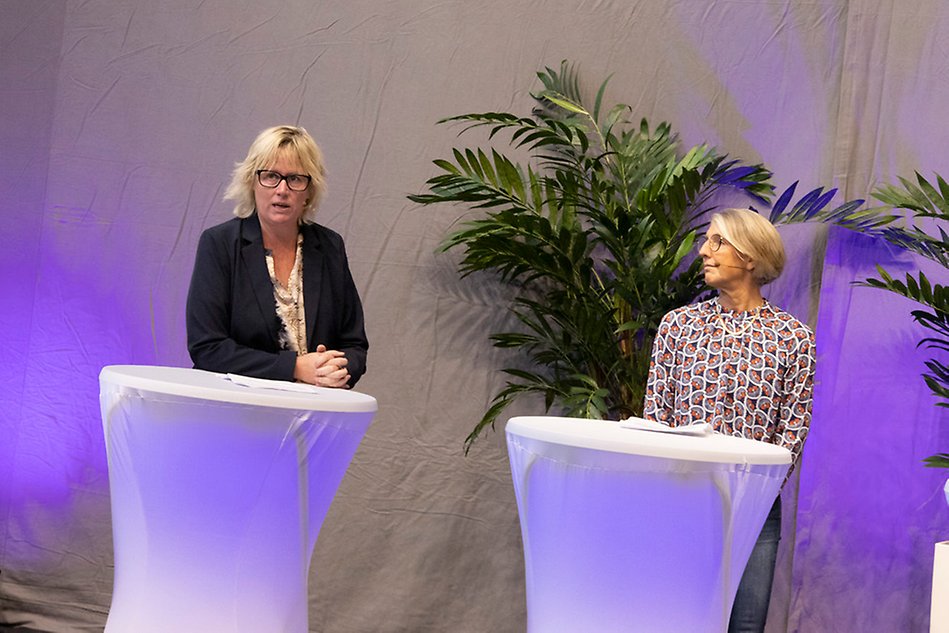 "I am quite impressed with the cooperation between the municipalities in Halland and how they share knowledge and collaborate. The conference made it very clear that the work that goes on within information driven care is to benefit the whole region, not just one municipality, and I think it is unique from an international perspective", said conference participant Anna-Karin Johannsen, Project Manager, CareWare Nordic, Municipality of Aarhus in Denmark.
Digital conference a success for many perspectives
This year's innovation conference was the first to be digital and showcased a wide range of speakers. This allowed for more geographic flexibility for the speakers, and it enabled several of the speakers to join via Zoom. There were more than 350 participants registered for the conference, a majority from Sweden and several participants following from the UK, Denmark and Finland.
Anna Maria Mårtensson, Collaboration Coordinator for the University's profile area Health Innovation that organised the conference:
"We are very happy with Health Innovation Day 2020. It was about showing the successful work that is taking place within information driven care and to create possibilities for new collaborations. We had 21 speakers, which is quite a lot for a one-day conference. However, the digital format benefits from having many alternating speakers, and it was a great learning experience that has provided us with many positive outcomes that we look forward to follow up on and work with."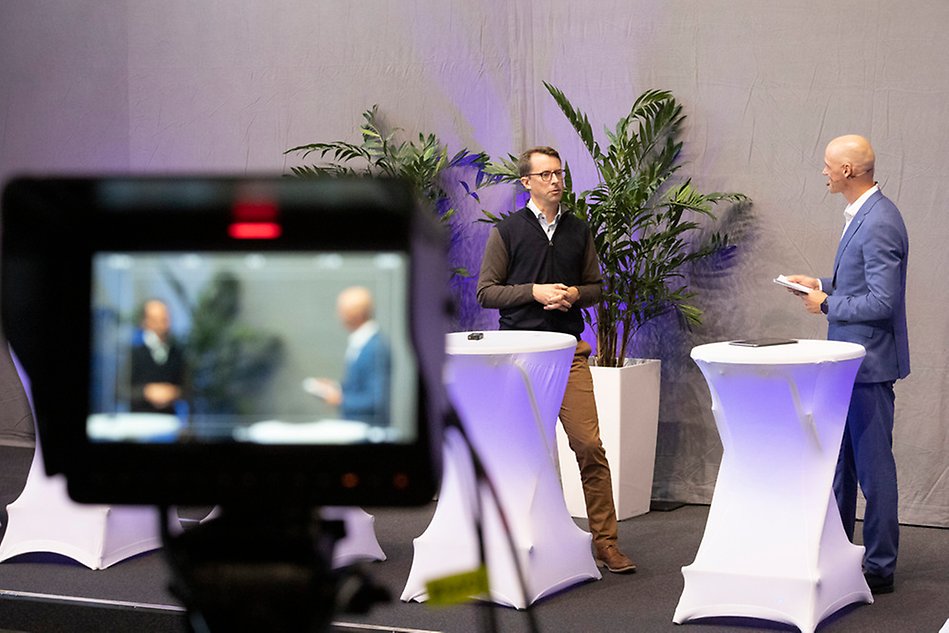 Examples of information driven care and co-production
The conference was divided into four sections which touched upon different areas of health innovation. The first section gave an introduction to the challenges that the Swedish healthcare system is facing, what strengths Halmstad University has within the field, the innovation agenda for the 21st century and the strong collaborations in Halland. During the second section, a range of speakers presented real life examples of technical solutions that are needed to apply information driven care.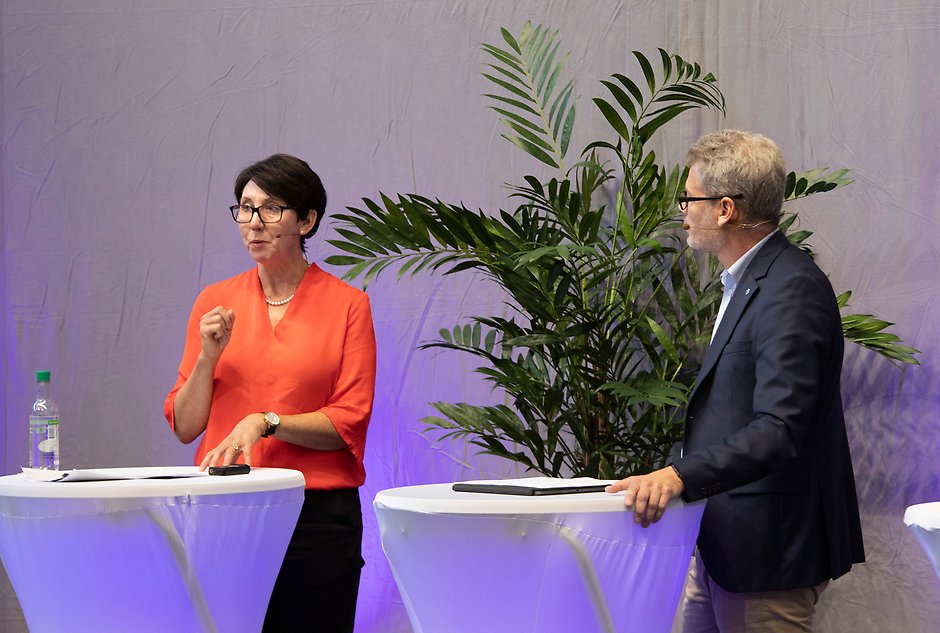 The third and fourth sections of the conference included a run-through of a process called springboards, given by Peter Uppman, Innovation Strategist, Region Halland, and Peter Astrup, Centre Manager Test- and Development for Welfare Tech (TUCV) in Viborg, Denmark. Representatives from the companies Visiba Care and Hallandia V gave a general business perspective on co-production and University representatives talked about the challenges with implementation of innovations in healthcare.
Voices from the panel discussion
Peter Astrup, Centre Manager Test- and Development for Welfare Tech (TUCV) in Viborg, Denmark:
"I believe an important thing to focus on is educating nurses and people in healthcare and not being blinded by the technology. We are providing a service to citizens to create the best possible outcome and that needs to stay the focus."
Karin Moberg, COO of Hallandia V:

"I think it is important for all people to realise that we will have to continuously learn new things. We have to retrain and rethink and be open minded to new ideas on how to solve the issues and problems at hand. The solutions we talk about today will not be the ones that are changing the world in five or ten years, there will be new ones. That is what we need to prepare for. Also, the data is not ours, it belongs to the care system. We have tools for analysing the data, but the data belongs to the care system."
Lillemor Berglund, Executive director health and social care, Kungsbacka Municipality:

"A success factor of change management is having more people involved in the solutions. We work together with the staff that works directly with the patients or citizens, and everyone is involved, much more than before. They can see and react on what is going to happen in the future, and that is a success."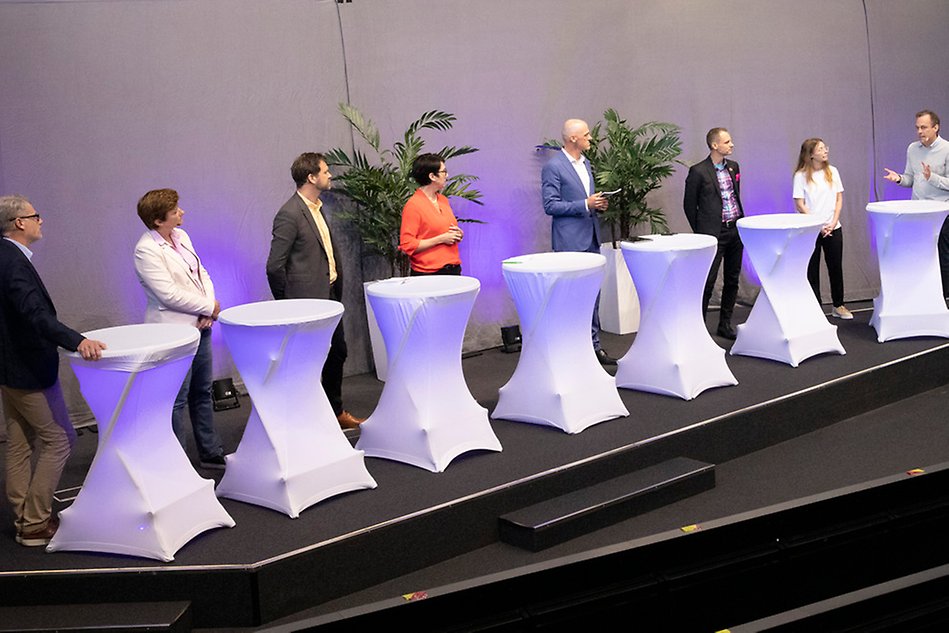 Text: Linnéa Andersson
Picture: Dan Bergmark
Read more
Conference program and speakers
Profile area Health Innovation
Leap for Life – Innovation centre for information driven care

External link.
About the conference
The topic of the conference was on the transformation of the Swedish healthcare system towards more information driven care, and to address how the healthcare system can meet societal challenges and provide quality and value for the individual with limited resources.
Did you miss the conference or do you want to see it again? Watch the different sections on Halmstad University's Youtube channel.
Health Innovation Day 2020 on Youtube

External link, opens in new window.
Health innovation research projects
Videos about some of the University's research projects were available for attendees to watch. The projects range from sleep interventions to business model innovations and feature University researchers.