The Health Data Centre (HDC) is a centre for research and analytics within health data and artificial intelligence. The focus is to develop the area of information driven care for improved healthcare delivery.
Halmstad University aims, together with Region Halland, to develop a leading European competence node for information driven care.


– Thorsteinn Rögnvaldsson, Deputy Vice-Chancellor for research at Halmstad University.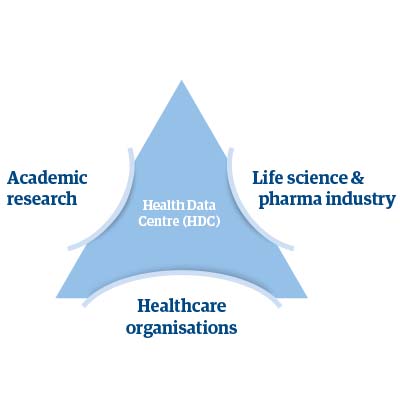 The Health Data Centre:
Enables collaboration between experts across disciplines and organisations.
Researchers – health organisations – companies.
Facilitates and provides a technical platform to retrieve, store and analyse health data in a safe environment.
Conducts research projects where AI is applied to health data for deeper insights to be used by healthcare organisations and companies.
Three key components
The Health Data Centre builds on a collaboration between Halmstad University, Region Halland and the healthcare technology company Hallandia V.
Halmstad University provides research competence (AI, data analytics, health innovation etc)
Region Halland provides health data upon agreement and clinical expertise
Hallandia V provides the data platform SHAARPEC and project & data management


Organisation and contact
Health Data Centre steering group
Health Data Centre operational management
Location
The Health Data Centre is located at the School of Information Technology at Halmstad University. HDC also has an office in Stockholm.
School of Information Technology, Halmstad University
Hallandia V (SHAARPEC), Stockholm

External link, opens in new window.
Information driven care at Halmstad University
The Health Data Centre is part of the information driven care initiative at Halmstad University in existing collaboration with Region Halland. Other initiatives within information driven care at the University:
CAISR Health is a research profile within information driven care where research on the development of AI tools meet research on how these tools can be implemented in healthcare. www.hh.se/caisrhealth

External link.

Center for Applied Intelligent Systems Research, CAISR, is a research and education center for AI. CAISR has two main application areas: information driven care and intelligent vehicles & predictive maintenance. www.hh.se/caisr

External link.
Leap for Life is Halland's innovation centre within connected health. It is co-owned by Region Halland, Halmstad University and all municipalities in Halland. www.leapforlife.se

External link.
Health Innovation is an interdisciplinary education and research focus area. It is one of two focus areas at Halmstad University. www.hh.se/healthinnovation

External link.
Information driven care at Region Halland
The Center for Information Driven Care (CIDD) is a virtual unit in Region Halland that supports the use of all health data in the region and the data platform RIHP. Data is used both for research and healthcare development & monitoring.
CIDD is also implementing patient encounter costing (PEC), generating process analyses and enabling research.
Ongoing initiatives at Region Halland, partly in relation to CIDD:
Democratising data – through dashboard, customised data is presented to different actors within the healthcare system to support their work.
Patient reporting – include patient reported outcome measures (PROM) and patient reported experience measures (PREM) as part of patient information.
Develop a data driven innovation and collaboration node (under construction).